Home
»
Disaster Restoration
Residential & Commercial Disaster Restoration Services in Greater Troy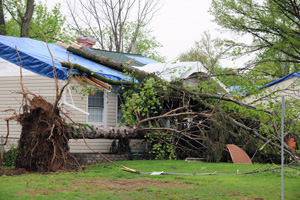 Quick action is important. Temporary repairs like this tarp cover can protect a home from further damage in the aftermath of a natural disaster.
Has your residential or commercial property sustained serious damage because of a natural or man-made disaster? If the answer is "yes," you've come to the right place. Ecostar Restoration & Renovation is always ready when disaster strikes. We offer complete disaster restoration solutions to residents of the Rochester, Troy, Sterling Heights and nearby areas of Michigan.
Why choose us for disaster restoration?
Fast response. We have emergency response crews ready 24/7. When disaster strikes, we'll answer your call for help.
Expert & courteous service. Our techs are trained in a wide range of disaster recovery operations. Crew members will always treat your property with care, paying attention to your needs.
Insurance company collaboration. We'll work with your insurance company to expedite disaster recovery claims and begin restoration work ASAP.
Temporary & permanent repairs. We can protect your damaged property with temporary tarp coverage & board-up services, to be followed by permanent repairs.
Improved disaster readiness. Get better prepared before the next storm! Many homes and businesses can be made more disaster-resistant with upgrades that we install. Upgrade examples include powerful sump pump systems with battery backup, basement waterproofing systems, flood vents for foundations in flood zones, and basement finishing materials that can't be damaged by water or mold.
How can we help?
Restoration of commercial, residential, municipal & institutional properties
Pump out of flooded basements
Toxic waste removal
Mold removal
Carpet cleaning
Drying & dehumidification
Removal of mold & moisture-damaged materials
Fire & smoke damage restoration
Foundation structural repairs
Sump pump replacement
HVAC system replacement
Water heater replacement
Ductwork cleaning & repairs
We do the right things in the right order
When your property has been damaged by a fire, flood, hurricane or other disaster, it's easy to feel overwhelmed. "What should we do first? What about safety and security? What can be restored and what should be thrown away?"
These are all common questions following disaster-related property damage. Ecostar Restoration & Renovation can help. We specialize in water damage restoration, fire damage repair, storm recovery and more. We'll work with you and your insurance company to design a customized restoration and recovery plan that meets your needs. Temporary repairs such as tarp protection or board-up work are sometimes necessary before permanent repair and restoration can begin. Whatever your home or business requires, we have the tools, training and expertise to get your home or business back to normal as soon as possible.
Call Ecostar Restoration & Renovation first! Let our disaster recovery experts help protect your property before the storm, and get your home or business back to normal after disaster-related damage. Call us at 1-248-689-8300 or email us today!
We provide complete inspections and free estimates for fire damage restoration, storm damage repair and any of our other disaster repair solutions. Our specialists service Troy, Rochester, Sterling Heights, Farmington, Livonia, Grosse Pointe, Bloomfield Hills, Macomb, Waterford, Utica and the surrounding area. Ecostar Restoration & Renovation is the trusted expert for disaster restoration.
Looking for a price? Get a no cost, no obligation free estimate.